social network for Micromax A63 Canvas Fun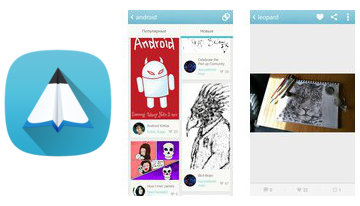 This application is designed for artists and anyone who likes to draw and drawings, however, it appeared only as a marketing product is a well-known company ...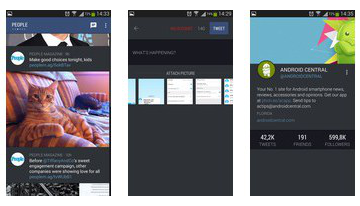 This application is an alternative client for the Twitter service, a customer who was reborn like a phoenix from the ashes and is suitable if the original is something you do not like.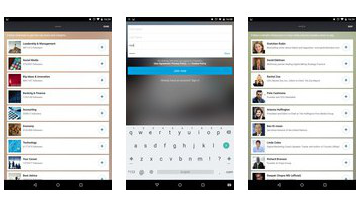 This social network does not need a special introduction, at present it is successfully used by more than 400 million users, including those with android!
One of the most popular entertainment sites Runeta got a new client so you can read funny articles on your android, even if you're offline!
For those who know there is an amazing resource Habrahabr news! Was created applications for your android to make you more comfortable to read this wonderful site for those who also do not know - I recommend to read!
SoundCloud app is designed for owners of androids who can not live without music and strictly aimed at popularizing it among his friends, acquaintances and other Internet users.
Kate Mobile app VKontakte created for sociable people who want to stay connected, moreover, it proves once again that is not always the "native" applications are the most comfortable, so if you have a claim against the original application for social network VKontakte, the this is a great way out.
Appendix Chat Dating Meet Find Friends allows you to make new friends and spend many hours on a pleasant chat in the chat. As it became fashionable, the application primarily focused on people who are in close proximity to you, which makes the communication process more interesting, and a meeting - it is easier!
FriendMaker application is the ability to chat, meet and make new friends among the people who surround you, and the here and now. Every day and every minute you are surrounded by a lot of people, fun and cute for you, using geolocation software will allow you to join the local chat, or create your own, eliminating all who are far away.
DalBeri program will allow you to stop paying for the services of their mobile operator for its social activism. If you use Twitter, Facebook, Vkontakte, then this app is for you, because thanks to these social networks now you can earn real money.
VKontakte program aimed at active participants in the social network, which has become quite popular in recent years. As with other software "first-hand", all comfortable, beautiful and running quickly, this is more than enough to get a program.
The program Flipboard is a kind of electronic news magazine collected from the most popular social networks. You do not have to open each site separately, all the most important and interesting it will be concentrated in this program!
© 2011-2019 mob-core.com |