communication for android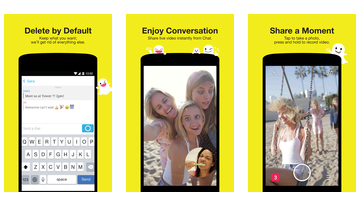 This app is designed for Android will help you communicate with your friends, or any other user who is worth the same, let's see what it stands.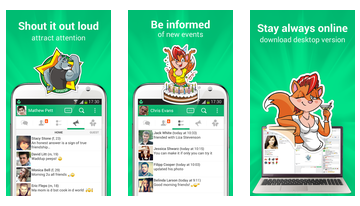 The program will help pass the time for communicating with another stranger, the idea is not new, but this application has shown great promise in spite of the competition!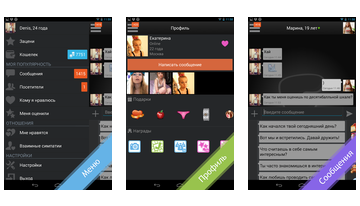 Appendix Flirchi - Dating Community for your android is a good opportunity to make new friends and maybe find your favorite people on the Internet, using only your phone or tablet!
Avocado - is an application for your mobile phone or tablet, which is simply indispensable for lovers or couples! Avocado already tested by millions of users around the world and they are very satisfied!
WhatsApp Messenger is a well-known app, but anyway, if you don't use it yet, then I strongly recommend you to change the situation for the better and install this app immediately! ;)
App for android called Joyfe is a new step in online dating is available to you absolutely free! So get acquainted and communicate without any restrictions!
This galaxy will open opportunities for you to communicate with the application installation Galaxy - Chat & Play created specifically for the owners of devices with Android OS, who want to be social and communicative, but prefer to do it in the virtual world. So start to chat and make new friends today!
MySender application created for people who are actively using the SMS messages from your mobile operator. Everyone knows that if not connected to these special package sms, then it can do is quite expensive, and packages are also decent money, or to include unlimited mobile that does not need so much, but those days are gone!
Signal Booster 2X - is an application that allows you to quickly restore your communication signal (3G/4G/LTE and Wi-Fi), and even increase it twice in a weak coverage. While there is a process of improving the quality of communication, you can enjoy a nice animation in the style of Droid. All you need is to click on the "signal boosters", wait 10 seconds, and you can enjoy the incredible speed signal and Wi-Fi.
Appendix interlocutor, girl-assistant is quite a fun application that is created either for a very lonely people or for those who just happens to be boring, and often. The essence of the application is that your android endeared beautiful blonde ...
The program Viber: Free Messages Calls is an analog of Skype that allows to send messages in chat or make calls, video messages, and is considering the possibility of new connections with people all over the world completely free including more than 200 million users!
kik messenger - Newest IM - messenger who frantically increasing popularity in the world.
© 2011-2019 mob-core.com |