alarm clock for android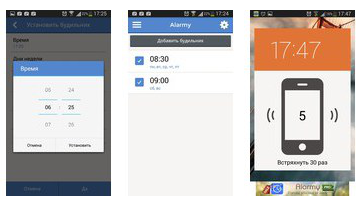 Among the many alarms for android, this is clearly in a position to stand out thanks to a very unusual idea, which clearly make you wake up in the morning!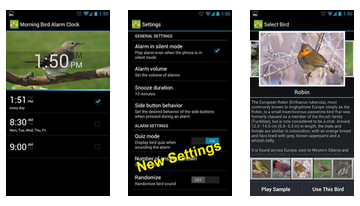 The program Morning Bird Alarm Clock is another kind of alarm clock for your android. At this time the development is based on the theory that the best thing awakening - natural, but timely, as they managed to combine - read on.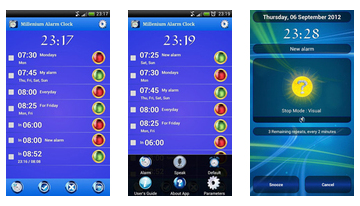 The program Alarm Clock Millenium is a new technology to guard your sleep, or rather the contrary ... they will deal with your sleep =) Morning - the most horrible time of the day for those who are hard to wake up, sometimes without tricks and gimmicks is not enough, then come to the aid and similar programs.
Appendix Puzzle Alarm Clock PRO is designed specifically for those who are hard to wake up in the morning and wake up, make sure you need it! This alarm clock will not let you do as usual - to switch off and go to sleep, it will not turn off until you actually wake up.
The program Bedside Alarm Clock will help you efficiently, clearly and in a good mood to wake up every morning without pads and other unnecessary problems. Very stylish design, lots of colors and features, and that's not all!
Caynax Alarm Clock - If you are bored with stock alarm clock and its functions do not meet your expectations, then this app is for you. What's new in this version:
After the last update the app does not work on Android devices below Froyo.
Restart the application after installation.
Alarm Clock - This alarm clock turns your Android into beautiful digital clock with gorgeous themes and an alarm clock that is able to play your favorite tunes. There is even a built-in flashlight to light up the darkness!
Screenshot: G-Alarm - an alarm clock that will not let you sleep. The program has a stylish design, but also has very good functionality and reliability. alarm clock feature is a mini game that would turn off the alarm. you need to decide to go or not a complicated game. after that, you have not exactly want to sleep and you will not be late for the robot ...
Math Alarm Clock - To switch off the alarm clock does not need to solve a very complex example. Here and manifest all of your knowledge of the school curriculum, slide the work a little bit, but with the alarm clock will be very difficult to sleep through anything.
© 2011-2019 mob-core.com |