aircraft for android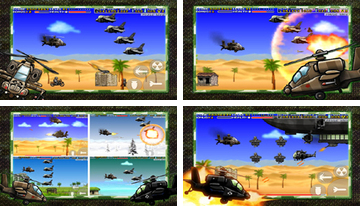 Game Apache Overkill is an endless shooting on the great Apache helicopter model with a great cartoon graphics and explosive action not only at each of the levels, but also for you in general. Let the battle begin, and swallow you and your android!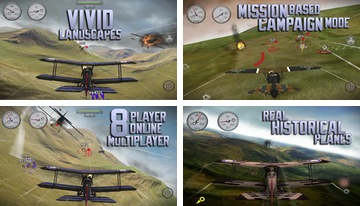 The game Sky Gamblers Rise of Glory is a magnificent simulator of air battles of the First World War for android. Get the unrivaled experience of air combat with the best 3D graphics and in the best shape of such games.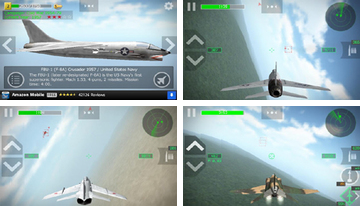 StrikeFighters-to your attention a great simulator. Mnozhestvoznamenityh jet aircraft that took part in the Cold War in 1954, and their followers. Take part in air battles and show their talents and aircraft control, affect the course of historical events.
Air Navy Fighters - try to learn how to fly a plane in the new simulator. Take the plunge and join the team of pilots involved in the military and rescue operations.
Playing The Breitling Reno Air Races is an immersion into the world of air racing aircraft company Renault. Take the plunge and join the team of pilots, driving the most famous aircraft in the world in the fastest motor sport on earth!
Game Extreme Flight HD Premium is a great letalka for android entirely devoted to tricks on motor aircraft. You are waiting for an incredible height, thrilling loops, premium vehicles, which are all able.
iFighter 1945 - defeat of the Nazis in the air shooting game for android. The game's plot develops during the Great Patriotic War. You're playing for the Air Force pilot. Your main task - to destroy the Nazis created a prototype weapon!
F18 Carrier Landing - try to learn the basics of landing an American carrier-based fighter F-18 Hornet. Live the life of a high-fighter pilot. You will have to learn not only to control the ship, but also to destroy their enemies.
Tiger of the Pacific - You control a fighter plane. Fearlessly interfere in all the battles with the enemy and crush it. Believe me, this game is for you. A great addition to a good story missions and incredible 3D graphics would be nice, but there is no mode of "Company."
Steambirds - Addictive gameplay is turn-based flash game of the same name and is now on Android! Use bombs, missiles and poison gas, that would defeat the enemy planes. In this version, improved graphics, a new interface and music.
Cloudy - incredibly fascinating and beautiful arcade game for your android. You will have to draw the trajectory of a small airplane, while you need to collect stars and avoid falling under the storm obloka.
Winds of Steel - air combat simulator in the times of the Great Patriotic War for the Google Phone. The action is developing in Asia and over the Pacific Ocean. A characteristic feature - Manage
© 2011-2017 mob-core.com |